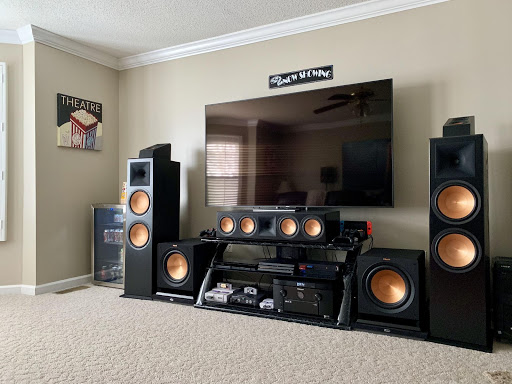 Surround Sound Installation: Understanding Surround Sound Formats, Room Layout and Equipment
If you've been contemplating surround sound installation for your home, it can be helpful to understand a little more about the different types of surround sound systems available. To help you to do that, today we're going to talk to you a little bit about surround sound formats.
Surround Sound Installation: Understanding Surround Sound Formats
Surround sound installation will improve your overall television viewing by creating a multi-dimensional sound experience. If you have yet to purchase your surround sound system, however, choosing the right system for you can be confusing.
What Do We Mean When We Talk About Surround Sound Formats?
When we talk about surround sound formats we are talking about how audio is encoded.
When we play a movie, the receiver of our home theater system decodes that audio track and directs the audio to play through the speakers of our surround sound system. So, a movie that has is encoded using Dolby Digital format requires your receiver of your home theater system to be able to decode Dolby Digital format so that it can direct the sound to the speakers of your home theater system appropriately.
The Different Surround Sound Formats
There are various different types of surround sound formats and these are used most often in different types of audio recordings and support a varied number of audio channels. Let's take a look at some examples to make it a little clearer…
Dolby Digital
Dolby Digital supports up to 5.1 channels meaning that the sound can be directed to play through a front left and right, center, surround left and right speakers as well as a subwoofer. Dolby Digital can be used on all DVD productions as well as some HDTV broadcasts, some cable broadcasts, some satellite TV broadcasts, and some video games.
Dolby Atmos
Dolby Atmos supports 5.1.2 channels and up meaning that sound can be streamed through the channels mentioned above for Dolby Digital, but it can also be streamed through two ceiling speakers as well. Dolby Atmos is a much more robust surround sound format than Dolby Digital. Currently, you will find Dolby Atmos is most often found on blu-ray and 4K DVD's and Apple 4K TV recently made Dolby Atmos available too.
How to Choose the Right Surround Sound System For You
There are a lot of different factors that go into choosing the right surround sound system for your needs. You need to consider your budget, your current movie collection, your projected needs in the future, the size of your home and the size of your home theater system, and brand loyalty, just to name a few factors! The best way to go about choosing the right surround sound system for you is to begin by doing your own research. Make a note of the brands and systems that interest you, read reviews of other homeowners to see what they recommend, find out everything you can and make notes of the measurements of your home theater space. With that information, head down to your local electronics store and ask to speak with someone who is familiar with the surround sound systems that they have on offer. Take the opportunity to ask any questions that you may have as well as to explain your current situation and to ask for advice.
Speaking with a representative at your local electronics store will allow you to get custom advice that is tailored to your needs as well as to your space. We recommend that you shop around at a few big name electronics stores and ask the opinion of knowledgeable employees at each store. This will help you to get an unbiased opinion of the systems available to you and which might best suit your home environment.
Are You Looking For a Reputable Placer County TV & Surround Sound Installation Company?
If you're looking for a reputable Placer County TV & Surround Sound installation company, Dream Home Entertainment can help! To make an appointment with our team, just pick up the phone and give us a call today at 916-420-6643.
Don't forget to read our reviews and follow us on Instagram and Facebook